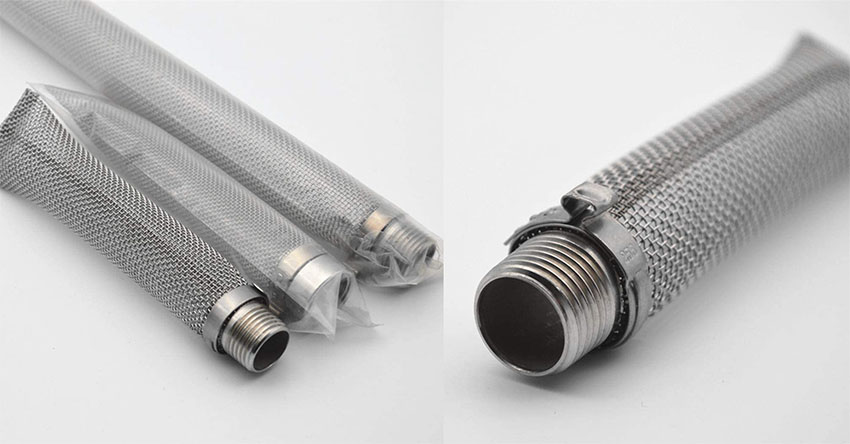 Homebrew Beer Filter (Corny Keg Filter)
Homebrew beer filter (corny keg filter) is designed for kettle brewing systems to contain hops while keeping debris out of pumps, chillers, and finished beer, resulting in a clearer beer and better taste.
1. Material: Stainless steel 304
2. Filtration Rate: 300 microns
3. Size: 7×18 cm, 7×29 cm
Features:
Nice cold resistant and high temperature resistant, anti-corrosion, do not fade and very safe to use.
300-micron mesh design makes the filter more refined, has an exquisite filtering performance.
Appropriate size and light weight, perfect for filtering homemade brew, wine or coffee, very practical and convenient
Easy to use and clean
Also, can be used as a filter part for coffee grinder, filter tank, water purifier, etc.
Bazooka Screen (Kettle Tube Screen)
Bazooka Screen (Kettle Tube Screen) is perfect for all-grain brewing or straining out leaf hops after your boil, replace false bottom to separate wort from the grain effectively, also use this as a screen in cooler mash tun.
Material: Stainless steel 304
Filtration Rate: 300 microns
Size: 6inch, 12inch
Features:
No extra drilling or anything else. No leaks.
Hop screen for boil kettle, the Mesh screen is fine enough to filter wort for a plate chiller.
Easy to Clean. After using, you can use the brewing paddle or spoon to gently scrape along the screen to rid off the turb on screen.
1/2″ NPT Threads, Stainless Steel